Slatwall Panels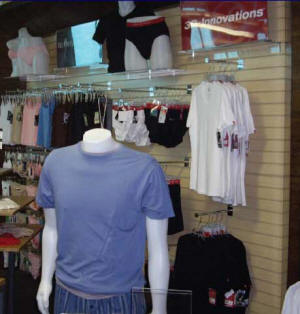 Being a store owner these days can be tricky. What is most important to a store owner is merchandising and using all of the space available in a store wisely. One over looked space in a store are the walls of the store, that is where Slatwall Panels come in as they are available in many attractive colors, designs, and finishes such as the more popular neutral colors such as black, white, and gray.
We also have what is known as Wilson Art Slatwall. Available in many designs and colors as Wilson Art is a manufacturer of a high end design coverings for all types of wood products. Our manufacturing team is able to acquire the Wilson Art coverings, apply them to the slatwall panel, and cut the groove.
A Slatwall Panel is made out of pressboard plywood sheets. The Slatwall Panel can be either painted or covered with one of the many coverings available such as Melamine, Formica, Wilson Art as mentioned above, and HPL.
Out of all the finished available the Melamine Slatwall Panels are the most affordable durable finish. Available in White, Gray, Black, and Almond colors with wood grain finishes such as Hardrock Maple, Oak, Soumi Birch, Pearwood, Mahogany, Cherry Blossom, Beech. We also have a Brushed Aluminum design available.
Slatwall Panels as well as Slatwall Displays can be accessorized with many accessories that fit into the slots of a Slatwall Panel.
All and all if you have a high end store or a standard store that you would like to look like a high end store, don't over look the walls as the addition of affordable Slatwall Panels can turn out to be a real asset.