The standard EF Interior Panels are recessed around the Gondola Upright in order to flush against the Upper Shelves of the Gondola.
The recess is positioned for equal Base Shelves, or optional Offset Base Shelves. Gondola Base End Covers are not required if a Metal End Flat (PAPMEF) is used. EF cannot be used with Hypermaxi System.
---

Heavy gauge steel wire construction, powder coated for long life and extra wear constructed for Potato Chips in a Grocery Store, Candy, Bed Linen, and more.
---
| | |
| --- | --- |
| Triple Clipper Counter Display Features: • 3 Rows • 13 Clips per row? • Displays products on both sides? • Holds 39 items Size: Triple strand - 24"H x 15"W x 10½"D Color: Almond | 5-Tier Merchandiser Features: • 5 Tier counter top display • Shelf depth ranges from 4½" to 8½" • Each tier includes welded sign channel 14"W x 1½"H Size: 21"H x 15"W x 9"D Color: Black Case. |
---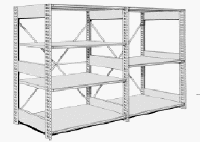 Madix Steel Storage Shelving for most storage needs such as retail back room storage and file storage.
---

All types of product display hooks, slatwall hooks & shelf brackets, gridwall hooks, waterfall displayers, adjustable knife brackets, tube brackets, waterfall hangers and a whole lot more. click here
---

Gondola Countertops are assembled using an existing Gondola Island shelf section with a countertop and Gondola counter brackets. Wood construction with top surface and edgework finished in choice of laminates. Available in widths from 8" to 48" and lengths.
---

EZ to install wooden canopy sections for any wall or gondola aisle sections available with lighting fixtures available.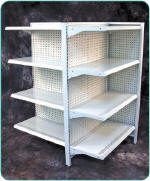 This versatile fixture gives maximum exposure to impulse items. Panel frames are slotted to accept all Madix Standard Shelves or accessories. The Laminated or Carpeted Deck is 5" high, plus the deck has 'T' mold edge to match kickplate.
---

Many standard and optional colors to choose from: Sahara, Chocolate, Gray, White, Black, and more.
---



We have three types of uprights available: the basic upright, the half upright, and extension uprights
---
Display Shelving Installation
How Difficult is Shelf Installation?

Click the link above for a detailed installation movie that shows you how to install your new display shelving. Display shelving is a great way to display all types of items such as boxed items like soaps, paper items like toilet paper and paper towels, jarred items like jelly, peanut butter, canned goods like bulk soda, bagged items like chips, and small items that can be hung on a peg hook.
Display shelving works well in all types of stores like convenience stores, beauty supply stores, grocery stores, party supply stores, smoke shops, hobby shops, and more.
Display shelving can be delivered through many warehouses located in all parts of the country.
---
CD DVD Displays & Merchandisers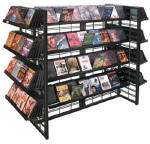 CD DVD Displays are the lightweight alternative for merchandising movie DVDs, music and, software CDs for rental and retail sales
---

Commercial Storage Racking connects existing gondola shelving to create a storage racking system on an existing gondola shelving system where storage space is not readily available.